New Gourmet Food Trailer for Events and Catering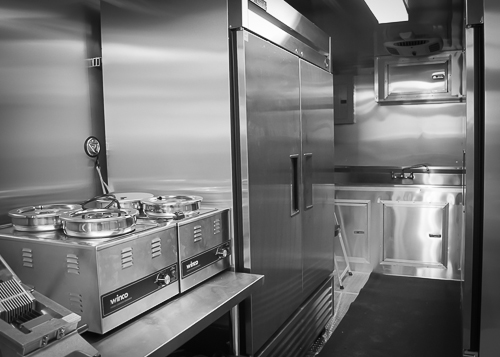 Share this:






Brand new custom-made 28 foot trailer available for corporate events and catering of private parties, weddings or other events. Our first event for this trailer was the Formula One Race at the Circuit of the Americas in Austin, TX in October 2015. Corporate promo rental: Are you looking to promote your brand or logo? We can assist with graphic wrap advertisements placed on our food truck for your event. We are open to discuss any idea and can discuss pricing on an individual basis for what is agreed upon. This food trailer is also available for Direct Marketing or Corporate Sponsorship. Catered with our full staff or we can discuss adding additional staff of your choice at an additional fee. Choose our products which are all proprietary or select your own menu for us to prepare. We can do both simple foods or gourmet. See the list of appliances below:
COMMERICAL-GRADE APPLIANCES:
• Wolfe 36" char-grill with chef base underneath
• Wolfe 36" griddle with True chef base underneath
• Wolfe 36" range/oven
• True 72" sandwich prep table w/ True chef base underneath
• Pitco double fryer (fry 2 separate menu items)
• True 2-door reach in refrigerator
• True 2-door reach in freezer
• Counter with attached cash box and POS System
• Commercial coffee makers
• beverage system available for cold drinks (Iced tea, lemonade, etc.)
• Storage cabinets throughout
• Drawers with utensils/knives
• Pots, pans, large mixing bowls, high end blender
• 4 warmers/cookers for hot items
• 3-bay sinks with hand sink and paper towel and soap dispensers
• 3'x6' Serving window with 20'x8' canopy and outside LED lights
• 2 AC units
• 4 100-lb. propane tanks
• Generator and electric hookup
• Ansell Fire suppression system
• Permitted in Austin, TX, Travis County, Williamson County and fully insured
Please inquire for pricing and include as many details of the event as possible (location, month/day(s), type of event, how many people that are estimated to be served, company and menu items you are looking for; branding information, and company contact information). We are widely known and revered for our own proprietary products, so please don't hesitate to inquire about our extensive line of foods. So whether it's a sophisticated dinner party or a fun event, we are here to serve all your catering needs.
We also custom fabricate food carts, trailers and trucks. If interested, please inquire and leave contact information.
Located In: 78748
Contact Truck Owner